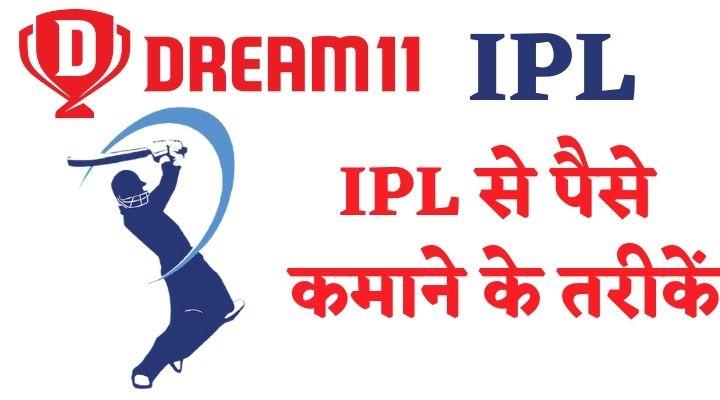 Who doesn't like to watch IPL cricket matches? There is no such person who does not know IPL but do you know that IPL Se Paise Kaise Kamaye or ways to earn money from IPL. If not, then in this post, you will learn about how to make money from IPL.
We all know that IPL (Indian Premier League) is played every year in India. IPL consists of players from teams of all countries. The IPL season has started, and its matches have already been played. As soon as the IPL season comes, cricket fans get such a fever of cricket that they cannot get off the entire season.
IPL is considered to be the biggest T20 league in the world. In such a situation, many people are earning lakhs by watching IPL cricket matches. Although there are many ways to make money online on the internet, we will tell you easy ways to earn money from IPL.
How To Earn Money From IPL
IPL is considered a festival in India because many people get rich after coming to IPL. Many cricket fans make their livelihood from IPL. Now the question must be coming to your mind that how money is earned from IPL, then for your information, let us tell you that IPL is a season in which people entertain and earn money.
It is straightforward to earn money from IPL; you should know about cricket. If you have complete knowledge about cricket, you can also make money from IPL in many ways. So here we will tell you easy ways to earn money from IPL through which you will be able to earn money from cricket.
ways to earn money from IPL
We will not tell you any illegal methods here. Well, you will find many ways on the internet to earn money online. Here are some easy ways for you, through which a cricket fan can earn lakhs from IPL. So let's know about the ways to make money from IPL.
1. Build your team
You can watch IPL matches online and earn money from IPL with your cricketing mind and experience. Dream 11, MPL, My 11 Circle, and Winzo are some such apps where you can make money by forming your team. All these apps are money-earning apps from cricket.
Dream11 is a great fantasy game. You are also given a reward of Rs 100 for joining Dream11 for the first time. After registering in it, you have to choose a team of yours. The next match in IPL is going to be between the two groups. You have to choose 11 players from all the players of those teams.
In this, you will get different options of wicketkeeper, batsman, and bowler. There are credit points for all these players. You are given a total of 100 credit points, from which you have 11 players to choose from. Out of these 11 players, you have to select a captain and vice-captain.
The more points out of these players, the better you play, the more you will benefit. People are very much like this game. So download the Dream11 app now and start building your team.
2. IPL Event Blogging
IPL is considered the biggest T20 league in the world, in which many people earn millions by blogging IPL events. To make money from IPL events, you have to start a blog or website related to your cricket. After this, news related to IPL will have to be published on its website. You can post information about cricket news, highlights, scores, dream11 team predictions, etc.
3. IPL Cricket App
In today's time, you will find many IPL cricket apps on the play store. But do you know that people are earning millions from these apps? If you also want to make lakhs from IPL in just a few days, then the IPL event app is the best way. You can earn good money watching IPL through your app.
4. YouTube Channel
If you want to earn millions by watching online cricket matches, YouTube is the best. You have to start a YouTube channel related to cricket, and when the game begins, you will have to do live commentary. Meaning you can earn money by doing cricket commentary on your YouTube channel. You will find many channels on YouTube that do a report.
How to earn money from IPL?
Money can be earned from IPL by creating your website or blog, YouTube channel, cricket app, and team.
IPL Me Satta Kaise Lagaye
If you put power in IPL, then you will find many platforms online where you can bet. These include fantasy cricket apps like Dream 11, Howzat, my11circle, etc.
Warning :
You can earn money from IPL through all these mentioned methods. Many people bet to make money from IPL, which is illegal. Keep in mind that if you are found in activities like betting, you can be punished and fined. Earn cash from IPL the right way and stay safe.
Disclaimer: भारतीय कानून के तहत किसी भी प्रकार का जुआ खेलना दंडनीय अपराध है। हम इस तरह के खेल का कड़ा विरोध करते हैं। dainikreporters.com किसी भी Satta King Game का न तो समर्थन करता हैं और न ही उसे बढ़ावा देता हैं। बार-बार हम आपको याद दिला रहे हैं हम आपको सट्टा मटका जैसी साइट्स से दूर रहने की सलाह देते हैं। इस वेबसाइट का उद्देश्य किसी भी अनैतिक कार्यों को प्रोत्साहन देने के लिए बिल्कुल भी नहीं है। इस लेख का उद्देश्य सिर्फ आपको सट्टा मटका या दिसावर सट्टा की जानकारी देना मात्र है।