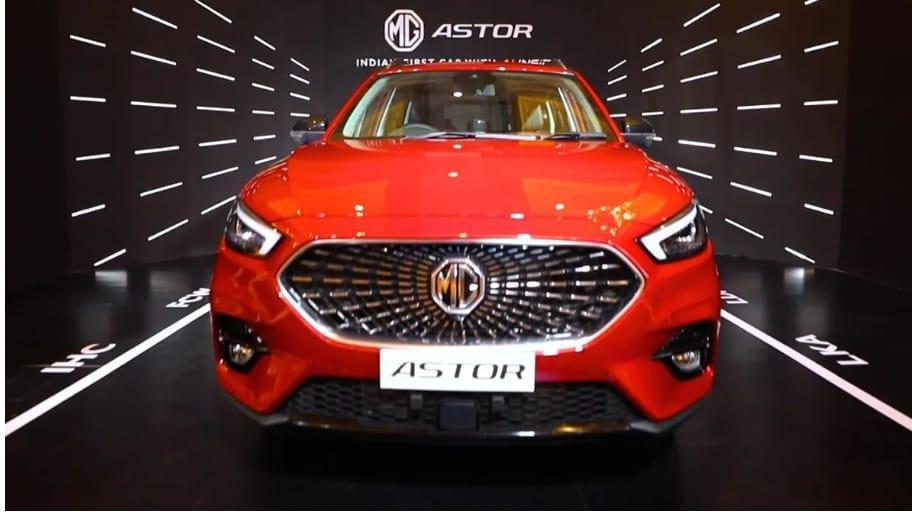 astor price in india images: MG Motor has launched its advanced SUV 'Astor' in India. It is equipped with the country's first AI i.e. Artificial Intelligence. This SUV has been introduced in two engine options and 4 variants. Its price starts from Rs 9.78 lakh.
What is the on road price of Astor?
The mG Astor price ranges from Rs 9.78 lakh to Rs 16.78 lakh, in four variants which include Style, Super, Smart and Sharp. The booking of the new Aster will start from October 21, the special thing is that these prices are introductory, which may increase later.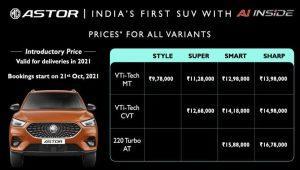 47 paise/km maintenance cost
MG claims that the maintenance cost of the new Aster is 47 paise per kilometer, for more details you will have to contact the MG dealership. The company is giving a warranty of 3 years unlimited kilometers on it. Apart from this, many more offers are being given on this vehicle.
competitive midsize suv segment
MG Astor is offered with two different petrol engines. In one variant, the 1.5-litre 4-cylinder, naturally aspirated petrol engine with mild hybrid technology generates 110hp of power and 144Nm of torque. .While the other variant has a 1.3 liter turbo petrol engine, which generates 140hp power and 220Nm torque. While the larger engine will come with a manual gearbox as well as an 8-step CVT gearbox, the smaller engine will only be available with a 6-speed automatic gearbox. .From solid build quality to premium high quality interiors, the mG Aster comes with AI technology, and advanced safety making it stand out in the segment.
What is the size?
It is tall in its segment, measures 4323mm in length, 1809mm in width, 1650 in height and has a wheelbase of 2585mm. It gets 17-inch two-tone alloy wheels, which have a really sporty design. There are roof rails at the top which help in giving it a sporty feel. .Its design is also very well designed. When viewed from the front, it impresses at first glance, the design of the grille is quite unique, and this type of design is yet to be seen in any other SUV in India.
.By the way, seeing this, you will definitely remember the company's own ZS EV, because the Aster is the petrol version of the ZS eV. This vehicle is Auto Nomous Level 2 pass based. The sharp LED projector headlamps have an aggressive design and below you can find the fog lamps. .Talking about the side look, its design is clean from here and it looks good too. The glass area is fine, and people sitting inside will have a comfortable view of the outside.
Talking about the rear look, it looks like ZS from here too, here you get the branding of ZS, as well as in the center you get the branding of Aster in the center just below the MG logo. Apart from this, the beijing of ADAS is also given here. By the way, MG has given a lot of begging in Aster. .Well, these taillamps installed in the Aster look very beautiful as well as being simple. The build quality of the vehicle is quite solid. In terms of overall exterior look, the Aster definitely impresses. Its interior is also quite premium and equipped with high quality, there is no dearth of features in the vehicle. .Even in terms of space, it will not give you a chance to be disappointed.
Personal assistantIs MG Astor a SUV?
In the new Astor, you get a personal assistant, with whom you can talk, your questions will also be received and it responds fast on the same side from where the voice comes. He understands Hindi, English and Hinglish. .It has a digital Bluetooth key, with this you can not only unlock the vehicle but also start it.
How many mg is Astor?
The new Astor is definitely a good SUV in terms of design, features, space and performance, but its success will decide its price.