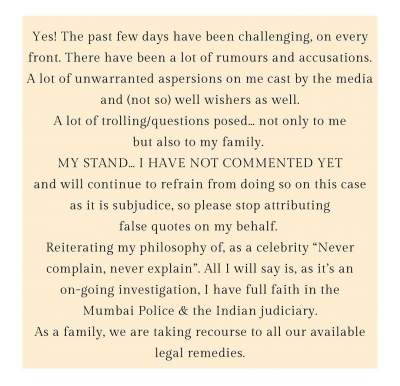 Film actress Shilpa Shetty's husband, Raj Kundra, is in jail these days for making obscene films. At the same time, in the midst of all this, Shilpa Shetty has shared a post on her Insta story, which is very much discussed at the moment.
Thank you for reading this post, don't forget to subscribe!
Shilpa Shetty has shared a picture of a page from a book on her Instagram story, which talks about the mistakes made in life. A quote from Sophia Loren is written on the book's page – 'Mistakes are part of the dues that have to be paid throughout life. Along with this, it is further written in it – 'We cannot make our life interesting without making some mistakes here and there.
We hope they won't be dangerous mistakes or mistakes that hurt other people. But mistakes will happen. We can view our mistakes as things we want to forget or our most interesting, challenging experiences, not because of mistakes but because of what we have learned from them.
I am going to make mistakes, and I will forgive myself and learn from them. ' Along with this, Shilpa Shetty has added an animated sticker, in which it is written- 'I made a mistake, but it doesn't matter.' This post of Shilpa Shetty is going viral.
It is noteworthy that since the arrest of Raj Kundra on July 19 for making obscene films, Shilpa Shetty has been the target of trollers continuously. She also stayed away from social media for a long time, but now she has become active on social media once again. In the past, Shilpa Shetty has returned on the sets of Super Dancer Chapter 4, and during this time, she also looked very emotional.
Shilpa Shetty's work front will soon be seen in the film Nikamma, directed by Shabbir Khan.